Songs of Our Nation | Oct. 14, 2017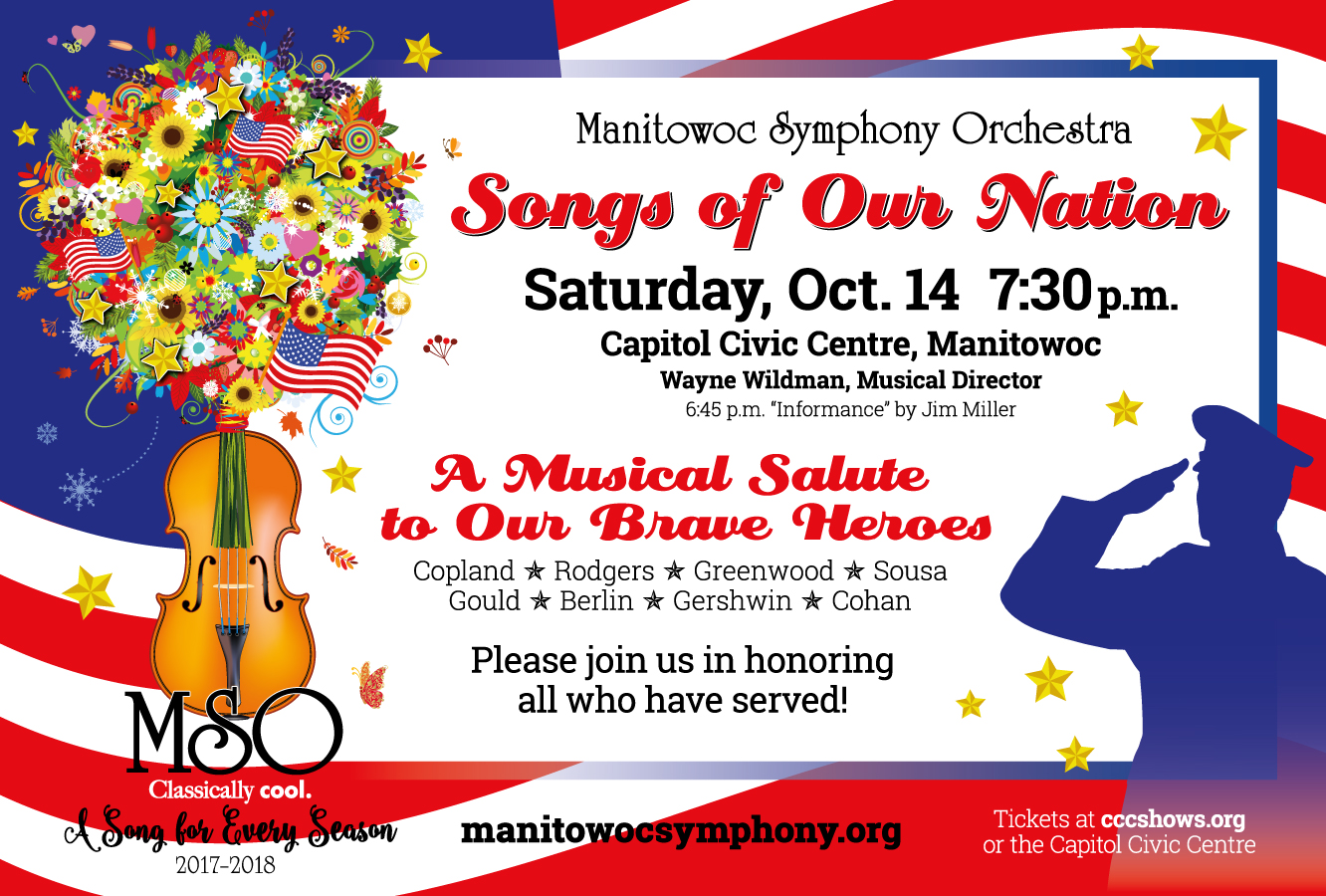 Songs of Our Nation | Oct. 14, 2017
With Veterans Day around the corner, the MSO offers a musical salute to our brave heroes, storied as well as unsung, who have helped to shape the destiny of our great nation.
FREE ADMISSION for all military personnel and their spouses.
Please be our guests as we honor your service and sacrifice. Just present proof of service at the ticket window. Free admission made possible by a generous gift from a local veteran.
---
2017-2018 Season Sponsors:
The Tom & Virginia Bare Charitable Fund of the Lakeshore Community Foundation, City of Manitowoc, Herald Times Reporter, and Seehafer Broadcasting
Grants:
Sara B. Falk, Heid Music Foundation, Next Era Energy, Elaine Schueler, Service League of Manitowoc County, Karen Steingraber, and the Ruth St. John and John Dunham West Foundation, Inc.
"Songs of Our Nation" Performance Sponsors:
Jeanne Censky, Edgar J. Hansen, Mark & Michelle Klaiber, Carl & Jerilyn Laurino Family, Marce Leonard, Renee Thompson,
and Dr. Joseph E. & Rhonda Trader
---
Performance Program
The Star-Spangled Banner
Armed Forces Salute  arr. Bob Lowden
Victory at Sea  Richard Rogers (1902–1979), arr. R. R. Bennett
Appalachian Spring  Aaron Copland (1900–1990)
American Salute  Morton Gould (1923–1996)
—Interval—
Strike Up the Band  George Gershwin (1898–1937) arr. John Whitney
George M. Cohan Salute  George M. Cohan (1878–1942), arr. Ralph Hermann
In Flanders Fields  Poem by Lieutenant-Colonel John McCrae (1872–1918)
Read by Matthew Schliesman
Hymn to the Fallen  John Williams (1932– )
God Bless the USA  Lee Greenwood (1942– ), arr. Bob Lowden
God Bless America  Irving Berlin (1888–1989), arr. Helmy Kresa
The Stars and Stripes Forever John Philip Sousa (1854–1932)