Songs of Harvest & Holidays | Nov. 18, 2017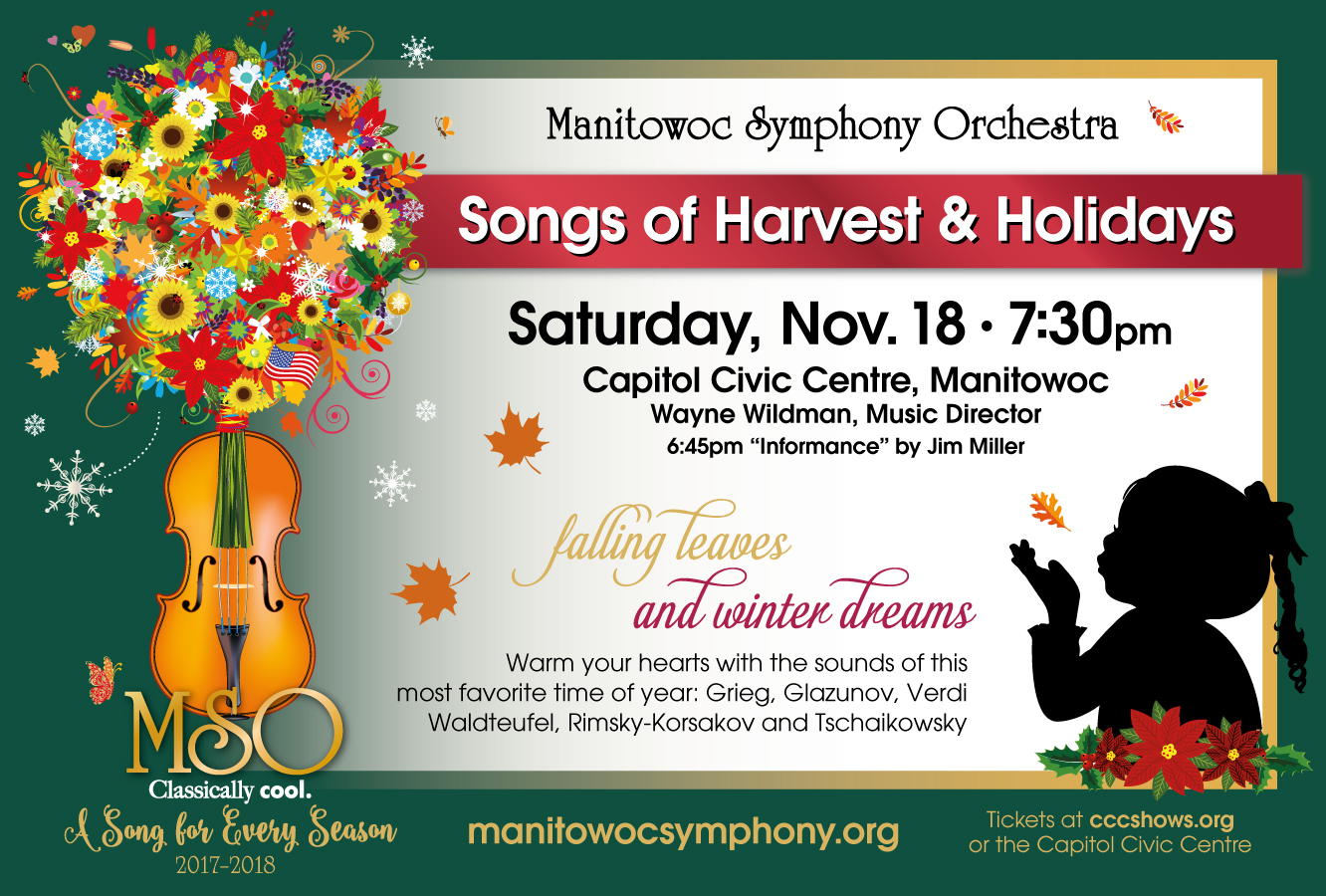 Songs of Harvest & Holidays | Nov. 18, 2017
Performance at 7:30pm with an Informance by David Bowman at 6:45pm
As the seasons change, we warm our hearts with the tunes that instantly bring memories of our loved ones and this most favorite time of year.
Take a look at the program below.
---
Sponsored by:
2017-2018 Season Sponsors:
The Tom & Virginia Bare Charitable Fund of the Lakeshore Community Foundation, City of Manitowoc, Herald Times Reporter, and Seehafer Broadcasting
Grants:
Sara B. Falk, Heid Music Foundation, Next Era Energy, Elaine Schueler, Service League of Manitowoc County, Karen Steingraber, and the Ruth St. John and John Dunham West Foundation, Inc.
"Songs of Harvest and Holidays" Performance Sponsors:
Mark Miller
Karen Steingraber and John S. Durbrow


Are you interested in becoming a sponsor? Click here for information!

---
In Autumn, Opus 11  Edvard Grieg (1843 – 1907)
Autumn from The Seasons, Opus 67   Alexander Glazunov  (1865 – 1936)
I. Bacchanal
II. Petit Adagio
III. Variation (Le satyre)
IV. Finale
The Four Seasons Ballet from Les Vepres Siciliennes   Giuseppe Verdi  (1813 – 1901)
Part Four: Autumn
I. Allegro vivace
II. Andante mosso
III. Allegro vivace
IV. Allegro sostenuto
V. Allegro moderato
VI. Allegro vivacissimo
Interval – Fifteen minutes
Polonaise from Christmas Eve  Nikolai Rimsky-Korsakov (1844 – 1908)
Les Patineurs (The Skaters), Waltzes, Opus 183  Emile Waldteufel (1837 – 1915)
Suite from the Ballet The Nutcracker, Opus 71a  Peter Ilyich Tschaikowsky   (1840 – 1893)
I. Ouverture miniature
II. Danses Caracteristiques (Marche, Danse de la Fée-Dragée, Danse russe Trepak,
Danse Arabe, Danse Chinoise, Danse des Mirlitons)
III. Valse des Fleurs